Preview - PoPoLoCrois
Previewed on 8/25/05
Not just your average Remake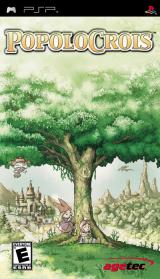 The PoPoLoCrois series has been a popular thing in Japan since the 90's. This drama spans across the PlayStation and PlayStation 2 for a total of four games. It even has an animated Television series to boot. Well this time Agetec and Sony has finally decided to port over the series to eagerly awaiting PSP owners that crave a handheld RPG.
PoPoLoCrois for the PSP is a compilation of the first two PoPoLoCrois games with added anime series cut-scenes. The story begins with our hero Pietro who goes on a quest to save his kingdom from an evil ice demon who wants to (yeah you guessed it) take over the world. This evil demon was also responsible for putting his mother Queen Sania in a deep sleep. On his journeys Pietro meets up with Narcia, a young witch and he also meets up with a White Knight as well as many other allies.
PoPoLoCrois II then moves the story along two years after the events of the previous episode as an evil goddess tries to take over their land again. It is said that some of the game environments from the first part and the second are the same but in the second one it is altered to show a sense of time passing by. The funny thing however, is that the original playstation versions of these two games is completely different in storyline. All the characters are the same, but the events that take place are different and rearranged. With that said don't expect this to be a direct Japanese port on the PSP.
In the graphics department this game seems to have some nicely detailed environments. It is said that this games graphics has been re-worked to suit the needs of gamers in this gaming age, meaning rich detailed backgrounds and lively scenery but that remains to be seen. All characters are designed with Cell Shading in mind.
So they have that anime feel about them. Not realistic looking but more fairy tale-ish. The look and presentation at first may seem like its for kids mainly because of the character designs and story, but Agetec and Sony are promising strategic gameplay that requires thinking and complex puzzle solving action. It is also said to offer over 30 hours of gameplay action.
The battle system in PoPoLoCrois is in the form of a tactical RPG. All battles are grid based combat a la final fantasy tactics style. Characters have magical spells including the ability to summon monsters to help you out in battle as selectable characters. There is also combination attacks as well. While battling it out they added in a quick-save feature which is perfect for this type of game considering the PSP is a portable unit so saving on the fly is important.
Overall PoPoLoCrois is shaping up to be a good SRPG for the PSP, even though it is the first (well for us Americans anyway). Expect to see this on store shelves Oct 4th and look for a full review of this game in the near future.

**UPDATE: This just in. Straight from Agetec the release date for PoPoLoCrois has officially been changed to October 25, 2005.
SCREENS
LINKS
-Q Jets